By outsourcing your bookkeeping to BookCheck, you will increase your efficiency and accuracy, in order to run a healthier business. Some of our clients have literally transformed their business, from top to bottom, as a result of working with us - see our Case Studies page.
We want to help you streamline your business - to minimise your time and ours.
You might think that your business is too small for outsourced bookkeeping, but the reality is that every business, big or small, can benefit from our service.
Your business will feel real benefits - let us help you run your business better.
Why Outsource with BookCheck?

BookCheck has been providing outsourced bookkeeping with management accounts plus payroll services since 1994. We have worked with hundreds of satisfied clients throughout the UK, in a variety of industries and across different business models. We save our clients time, money and worry by moving their business forward. We have a huge wealth of bookkeeping experience and we have the necessary skills to help any business succeed.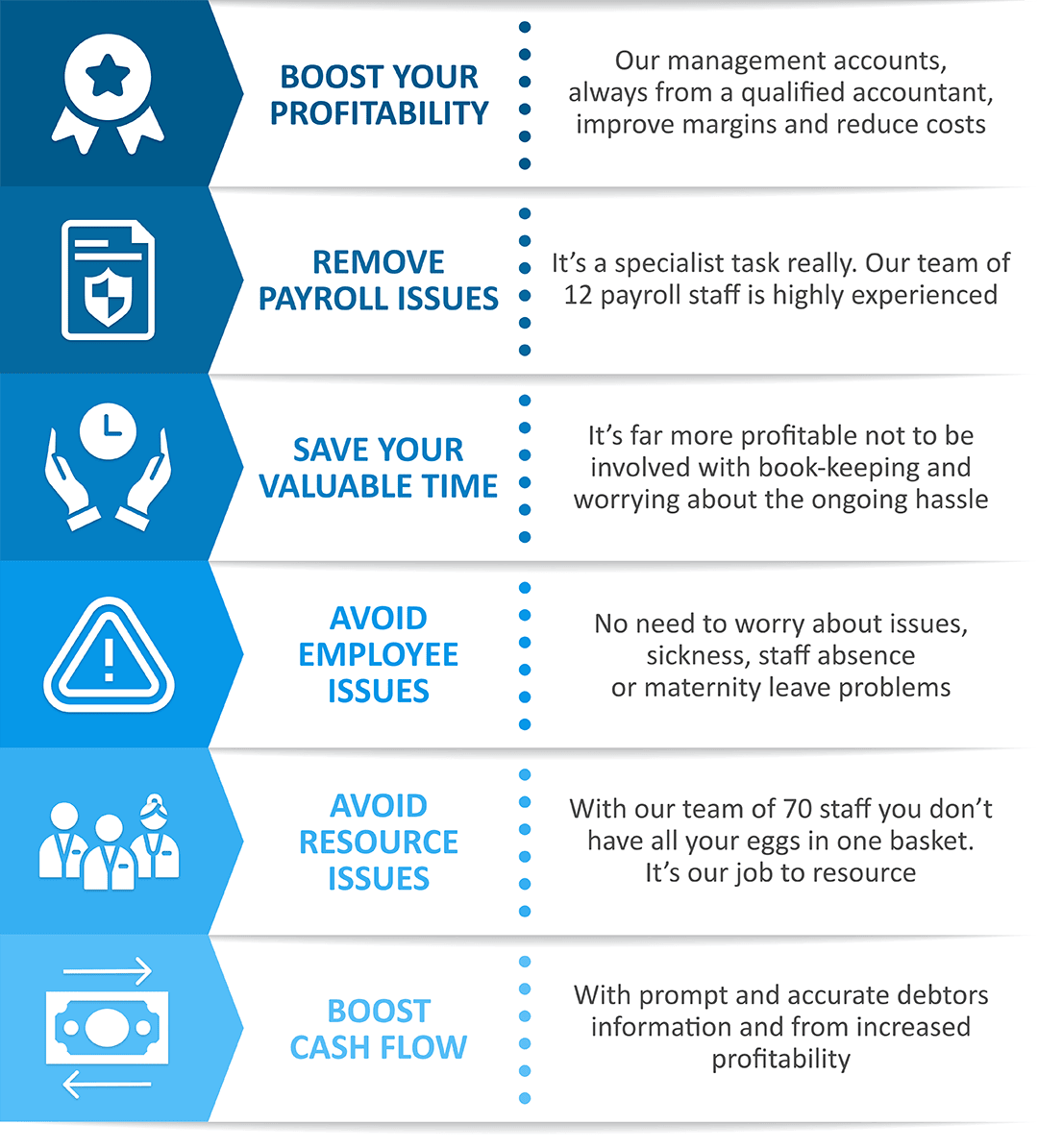 Client Questionnaire Results
At year end, we send a questionnaire to our clients to rate our service.
These are our average marks for the 6 months to September 2020.

Key Reasons to Outsource your Bookkeeping
Save your valuable time
Remove worries about resource and quality
Achieve up to date, quality information
Improve your profits by measuring results
Save time and use a professional bookkeeping service

The first tangible benefit of outsourcing your bookkeeping is all the valuable time that you and your staff will save by not wrestling with the task yourselves. In addition, using a professional bookkeeping service means that you will always have ready access to your financial data. This will be accurate and up-to-date, meaning you can focus on the bigger business picture.
Outsourcing also means you can match the right skill-set to the job, so that staff members aren't doing accounting work on top of all their other duties. We have a professional team of 60 experienced and skilled staff who you will be able to call on. And we all love what we do, bringing our passion and bookkeeping knowledge to the table. You won't ever have to worry about staff issues such as absences, illnesses, recruitment or employment challenges affecting your business. Putting your bookkeeping in the hands of contracted professionals means you can be secure in the knowledge that your accounts are being handled with care.
Better results with expert bookkeepers

Our team of financial professionals are all skilled and experienced. Our bookkeepers and qualified accountants work closely together as a team, following well established and settled systems which are to ISO 9001:2015 standards. This means that we can provide you with an efficient and high-standard service where the right hand always knows what the left hand is doing. Our dedicated team strategy approach to bookkeeping will save you time and bring you results faster. Outsourcing will help you reduce costs and improve efficiency, allowing you to concentrate on the things you do best - like running your business.
Outsourced Bookkeeping with Management Accounts
Outsourcing Bookkeeping with Management Accounts will also help you:
improve security
reduce hassle and worry
build business resilience
improve cash flow with accurate debtor information
avoid employee issues
access our staff resource of 60 highly-qualified staff
avoid employee recruitment and retention challenges
benefit from a consistent and quality bookkeeping procedure
At BookCheck we pride ourselves on:
Being UK market leaders by combining a high-quality reconciled bookkeeping service with management accounts. Many referrals come from accountants, part time Financial Directors and business owners.
Guaranteeing that every single set of management accounts is both thoroughly checked and issued personally by a qualified accountant. We've never seen this offered by another firm in our 26 years experience.
Providing detailed management information to improve cash flow and increase profits. Clients have seen a significant increase in profits as a direct result of working with BookCheck.
Our ISO 9001:2015 Quality Management Systems accreditation - a unique achievement in the UK for our type of business.
Find out today how BookCheck can help your business
We're dedicated to working with you to help boost your profitibility.