Well not really, as no company would get very far if it didn't report PAYE, VAT or year end accounts. But what about where it's not compulsory, such as management accounts? Judging by the absence of such from most businesses it looks like they don't matter. This is a pity because if you can measure it you can improve it, assuming you want to?
"We have been working with BookCheck since 2019 and there were two keys reasons for Young Bristol making the move; namely their professionalism and their Advanced Reporting system. The quality, detail and flexibility of their system allowed us to customise the reports to meet our ever changing business needs. The clarity of the reports now ensures I can robustly and confidently report on the charity's finances to the Trustee Board as well as potential funders." Lee Williams, CEO, Young Bristol.
Just about all of our clients have monthly, a few quarterly, management accounts. Before the days of Xero we searched for a method of linking Sage to Excel, rather than ODBC links which are tricky or keying data which is time consuming and risks errors. We wanted a template that we could run automatically to produce a smashing looking report in Excel. It took us a full 10 years of false trails when in 2010 we discovered the software solution. It was a huge breakthrough at the time and we called it BAR - BookCheck Advanced Reporting.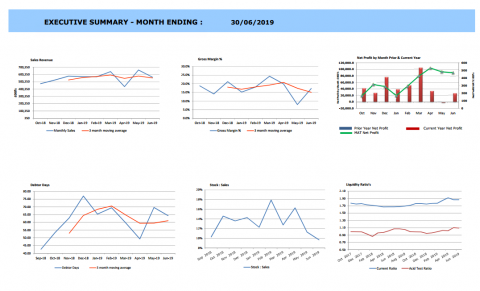 Since then BAR has been our tried and tested brilliant method of producing 100% tailored accounts – to specific client requirements. They're all different. Some are 4 pages, others are 40. Some are split 20 ways by P&L. Some have graphs and bar charts. When the reporting is client designed the magic is that there is a much greater likelihood that the information will be understood and therefore used. That's rather important.
Then along came Xero. At first we used the same software and it sort of worked, however we had technical issues like the slowness of data transfer and some data not being available for reporting. It was too imperfect so we looked once again for specific software to help. It was another long journey. After 2 years we found a good solution, we migrated, learned and trained. We converted reports and settled down. But then, guess what? The software company was bought by a huge business which decided to close down our tool. Once again we started a search and once again we've found an excellent solution. It's not easy to use for most folk but we had the skills to master it and it's really powerful.
This may not sound that impressive but what we've developed is literally world leading in the methodology. Many finance departments produce in Excel but not in the secure, automated way that we report, which saves time and minimises data errors. So we're pretty proud of our achievement which under the bonnet is almost unknown to our clients in how we do it – it's the results which score for them.
The moral of the story - first report and then do it the best way. By the way, just check first that the data is sound.