Now we've had our 25th birthday I think I can afford to comment on our relationship with firms of accountants which we are not even though our Team includes eight qualified accountants. We're purely what it says on the tin - bookkeeping with management accounts + a payroll bureau.
All our clients have their own external accountant with whom we liaise at the year end. We also win new client referrals from some firms. We can see a great range in their attitude to 'wanting' to handle bookkeeping - this varies from absolutely no wish whatsoever though to being keen to provide.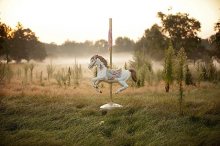 So where do the horses come in? Well, if you are a firm of accountants, do you have the right horse, or should you focus on a different course? To put it another way - why would you be interested? Is it really improving profits or is it just turnover?
Some months ago, we proposed to a £1m business. They were a very good fit for our service. They liked our proposal and showed it to their accountants who quickly undercut our fee. The prospect thought that it sounded like a good idea, a one stop shop at lower cost, so we lost it. I couldn't help commenting to the prospect at the time that the chances were that it wouldn't work out.
Some 4 months later the prospect told me – "You were right. They've never got to grips with data communication, scanning, or a routine and despite charging us for management accounts we've never received any". So we now have a chastened new client.
So why did they do it and why didn't it work out?
I guess they did it because of some combination: they didn't want to say no, thought the client might leave them and they wanted the billings.
I would say it didn't work out because they were not set up or resourced to 'do a good job', including management accounts which we find is often missing.
So, what would we suggest to a firm of accountants? The key point is to check the course. Are you really geared up to win that sort of race otherwise why not concentrate of what you are good at which is a different race.
By the way, have you noticed how progressively it's becoming more and more difficult to recruit quality staff - all the more reason to harness them to much more profitable work, which is what they prefer doing anyway, rather than book-keeping.
Do you have the Horse for the (Book-keeping) Course?