This is an update to our blog in April "On or Offsite?"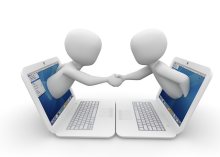 Before the virus, 15% of our clients were onsite, interestingly non on Xero. Clearly we had to change to 100% offsite and this was achieved relatively easily, to the surprise of most. This was partly because we are very experienced with the technologies and also because the client recognised that the move was unavoidable.
Some of the our of work changed but not significantly. For instance, our clients needed to send us information which previously would have been in their office, not difficult. For some Sage users we started to host their system, for others we arranged remote access. Of course a benefit of Xero is that nothing needed changing because it was already 100% cloud, as are all the add-ons. Thank goodness that broadband capacity never appeared to be a problem.
Rather like our Canary Wharf client (see April blog) which was obliged to engage us 100% offsite (it worked out perfectly) the virus has had the same effect. We've certainly experienced what has been reported nationally in that the change has been remarkably smooth and in plenty of cases has actually improved matters. Our staff are more flexible in when they work and it's easier to build a team when geography is irrelevant.
So what's happening as the lockdown is relaxed?
Interesting some of our staff have said they would like at least a partial return to onsite as it suits them personally, which is fair enough. Then some clients have said they would like us back. We have one client where we have returned fully onsite one day a week in Manchester – the nature of the work made it a bit of a pain offsite but this is the exception, the majority of the 15% are still totally offsite.
Effect on winning clients
Before the virus it would have been standard practice for us to visit a prospective client before engagement. Not any more. Now it's handled by Zoom or similar and we are not physically visiting anyone, although we offer to do so and would be happy to oblige. Funnily enough we have record business in all our 26 years so something is working.
Effect on the labour market
Working from home has reshaped opinions and options. Less travel time, hassle and cost are attractive considerations. Commuting to London or major towns has suddenly become a lot less attractive. Being able to choose where to work from and when are now much more important considerations – this will have a massive effect on the labour market.
Now it's been clearly shown that secure work can be handled perfectly well offsite, the rules are changing. Employees are in a strong position to change, almost dictate, where and when the work is performed. This will affect the whole recruitment and retention process.
Employers too stand to benefit from casting the net much wider for skills and will be looking to reduce office charges - a desk space in central London on average costs £10,000 p.a.. There is no going back on this which is a great breakthrough, possible a mini revolution. Of course BookCheck has been leading the way for 26 years :)